Types of conflict in a project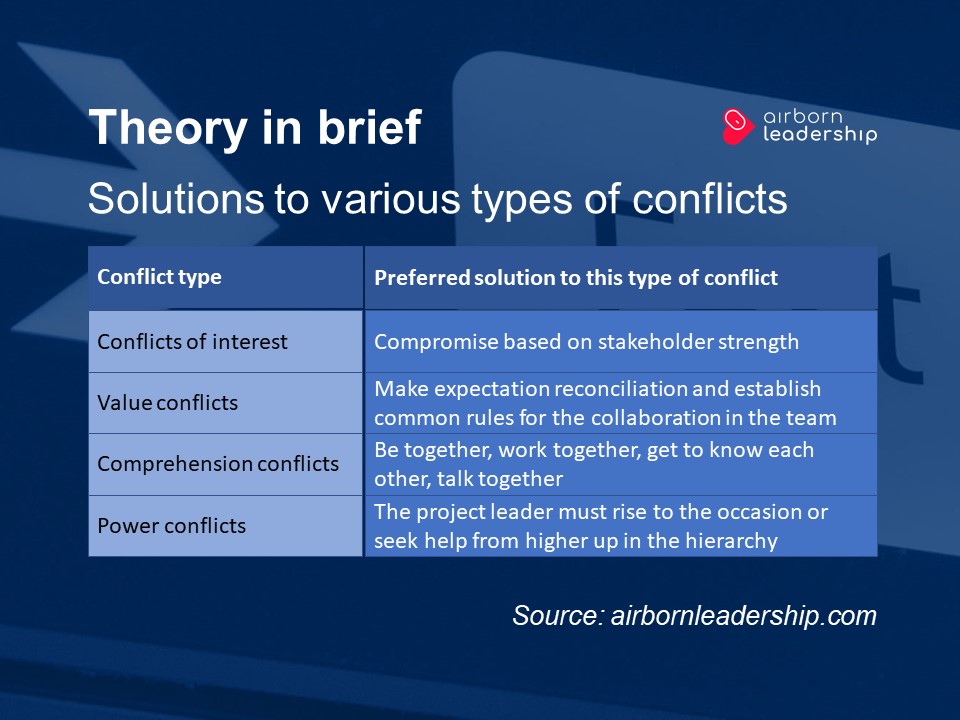 Find out what type of conflict you're facing and choose a solution
Once you learn that a conflict is underway you have to examine what the conflict is all about. What is the problem? Which type of conflict are we dealing with? Different types of conflict need different kinds of solution. In projects we usually find these four different types of conflict.
Conflicts of interest are about conflicting desires and demands and there is nothing strange about having differing interests! The conflict is based on which desires or demands should be considered in this project – yours or mine? This type of conflict often arises in connection with resource allocation, fields of work, time consumption, differing interests in the project and differing prioritizations in the goal. The solution will often be a compromise between two or more interests. That doesn't mean meeting each other halfway!  The compromise is often dictated by the mutual power structure.
Comprehension conflicts are about failure to understand why the counterpart acts the way they do. The counterpart acts and works in an incomprehensible way, e.g. because of different professional competencies, different educational backgrounds or simply other preferences. The conflicts are based on a lack of tolerance for differences or misunderstandings. The solutions will often be to sit down and talk about these differences or work together and realize that others have other strengths than I have myself.
Value conflicts run deeper than conflicts of interest or comprehension. These conflicts are rooted in the goal for our work as well as the means you use to reach the goal. They can be about values regarding diligence, quality, work, spare time, flexibility, honesty, openness, helpfulness etc. Often it won't be possible to change each other's values in the short span of a project. Therefore, the solution will often be to agree on certain project rules: "We know, we have differences, but in this project we will do it like this."
Power conflicts are all about the constant subject: "Who is in charge here?". This will challenge project managers and sub project managers but it can also hit the expert with insight who may find it difficult to get through with his or her views due to dominant team members supported by the rest of the team. In power conflicts no compromise is possible. Either you are in charge or you aren't. So the project manager has to rise to the occasion if somebody doesn't accept his or her managerial right. As a last resort you may need help from project owner to set the distribution of roles straight.