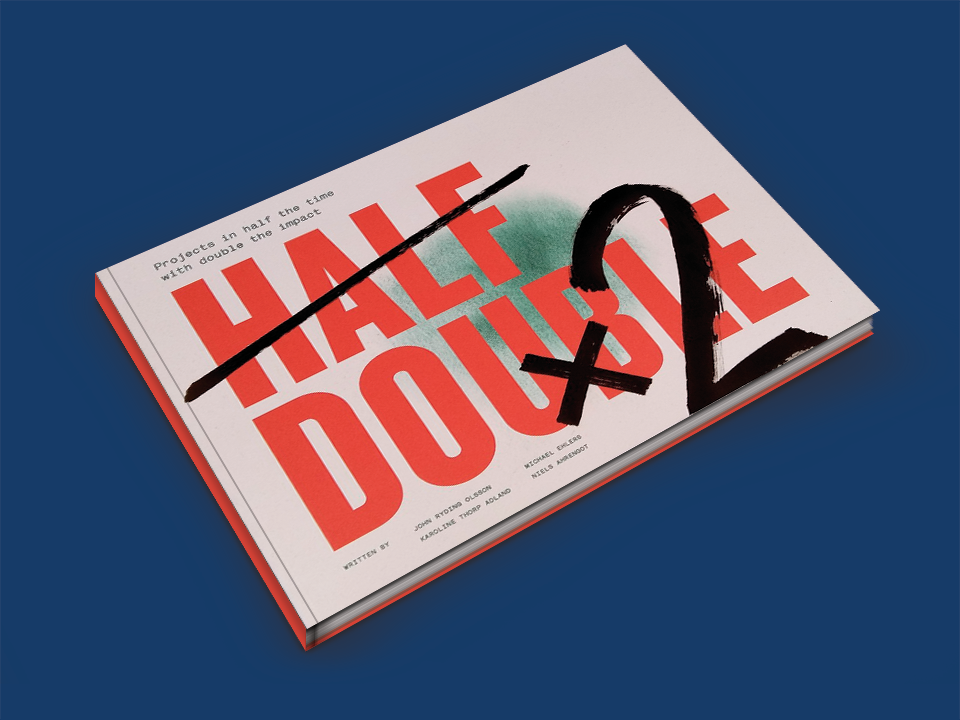 Half Double
The book describes the Half Double method which creates projects with double effect in half the time. Studies show that 86% of the projects using the method reach the success criteria. The methodology has been co-created by 1 consultancy, 3 universities, 17 companies and more than 1,400 dedicated project practitioners. The book is written for all the other passionate project practitioners out there.
Full description
People who are driven by the need to create real impact and who are willing to take unconventional measures to lead projects. Whether you are a PMO, project owner, project leader, team member or someone who invests time in temporary endeavours undertaken to create impact – this book is for you. The book is an inspiring and practical handbook designed to change our way of thinking and acting in and with projects.
It provides hands-on principles, methods and tools to help you realise projects with double the impact in half the time as well as real-life cases to show what it all looks like in practice. A handbook designed to enable us to go out and DO it ourselves.
In essence, the book extends the known agile methods with concrete methods for impact realisation, reflective leadership and a strong focus on how people are motivated and perform – it is all about placing an extreme focus on three core elements:
Impact: Unlike other agile methods, focus is on the effect of the project over the deliveries. Deliveries are a means of achieving the desired effect. To ensure quick effect, three methods are used: Impact case, impact solution design and pulse check.
Flow: The principle is to ensure a fast flow of ideas, results and learning. To create this flow, three methods are used which can be described very briefly as: Put the team together, create rhythm in the project and use visual methods.
Leadership: As a superstructure on other agile methods, Half Double focuses on leadership. This is ensured through the following managerial behavior: An active project owner, a collaborative project leader and a reflective and adaptive mindset: Both project owner and project manager should see changes in the environment as possibilities rather than threats. The focus must be on learning and adjustment, to ensure the greatest effect.
Content: Half Double
Chapter 1. What worked in the past won't work in the future
Chapter 2. What does the new methodology look like?
Chapter 3. Impact – Impact case, Impact Solution Design and Pulse Check
Chapter 4. Flow – Colocation, Visual planning and Rhythm in key events
Chapter 5. Leadership – Active ownership, Collaborative leadership, Reflective and adaptive mindset
Chapter 6. Local translation – Build a Half Double mindset, Customize to governance and Anchor the Half
Double practice
Chapter 7. Half Double portfolio leadership – Create strategic impact, Short and fat projects, Leadership team and ownership
References
Readers statements
"While reading the Half Double book, I felt both deeply reassured and provoked. Reassured as the hands-on principles, methods and tools confirm what I believe to be the way forward. Provoked, as it also made me realize how caught up in the outdated way of thinking about and acting in projects we still are"
– Lars Sandahl Sørensen, Excutive Vice President, Chief Operating Officer, SAS, 2018 –
"I received the book Half Double a couple of days ago and read it almost all at once – terrific!!! Congrats on the initiative layout book and co-creation methodology – highly aligned with my own mindset! I have been working for many years publishing papers and advising companies about PM approach. The Half Double approach (impact; flow; leadership) has many of my thoughts supported and related to Project Design".
O. Zózimo De Souza Jr.

Editor at Project Design Management Magazine & Journal Modern Project Management, Brasilien, 2018 –
"Half Double is an easy to read, great colorful layout, energizing and inspirational book. The theory and hands-on principles and tools are explained and the real life examples make this book a must read for those who are directing or running projects in this more and more rapidly changing world and for those who would like to move away from some outdated ways of thinking and running projects".
Henny Portman, Partner at HWP Consulting, Hedeman Wieferink Portman,

Netherlands, 2018
Authors: John Ryding Olsson, Karoline Thorp Adland, Michael Ehlers og Niels Ahrengot
About the authors
John Ryding Olsson has been a partner at Implement Consulting Group from the founding in 1996. For more than 25 years, he has worked as a management consultant. He has been chairman of the Danish Association for New Product Development, Member of the Board at IPMA Denmark and Assessor at level B. John is the author of several management books including: Power in Projects, Programs and Portfolios; Project leadership – Impact on time; Active Project Management, and New Product Development – at Bang and Olufsen.
Karoline Thorp Adland is a senior management consultant at Implement Consulting Group. She has collaborated with numerous organizations on improving their strategy execution through enhancing agility, effective project management and reflective leadership. With an academic background in business psychology and a passion for neuro leadership, she is focused on humanizing the field of project management by enhancing the focus on involvement, collaboration and engagement within teams and individuals.
Michael Ehlers is a Partner at Implement Consulting Group He has worked with innovation, project management and strategic execution at Implement Consulting Group since 2006. Michael specializes in the Half Double approach, agile execution, project governance, portfolio management, PMO setup, development and implementation of project management models as well as steering committee and project management training. Michael is a certified PMP®, SCRUM master and PRINCE2® Practitioner.
Niels Ahrengot is founder of and managing partner at Implement Consulting Group. He is a senior adviser for a wide range of global companies on strategic transformation. His field of expertise includes Operational Strategy, Lean, Project and Program Management, Agility and Project Organizations. Niels is the author of several management books and concepts, including: Kill Complexity; Fit for Fight; and Power in Projects and Portfolios.
Implement Press: Issue 01, 2018, 325 pages, Softcover, ISBN 978-87-993289-6-3